Volunteer and Support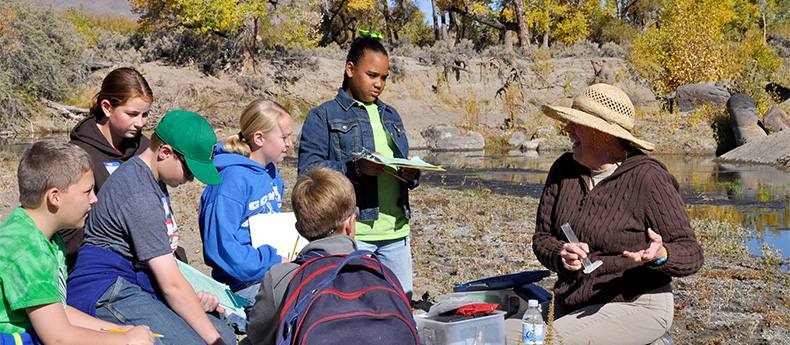 Volunteer
Nevada State Parks welcomes volunteers and provides various opportunities for involvement. State Parks' volunteers provide a wide range of beneficial assistance to the parks and are an important part of creating a great experience for visitors. Along with the satisfaction of knowing that they provide valuable and meaningful time in support of Nevada's many state parks, some volunteers also gain experience that can be used for future employment opportunities.
Campground Hosts: Selected volunteer Campground Hosts will camp at a park for extended periods of time, and provide general services such as greeting the public, providing information, cleaning the campground/facilities, fee system compliance checks, reporting any problems to the park rangers and other related duties.The Campground Hosts usually locate their own trailer or recreational vehicle (RV) in a campsite close to the campground's entrance and receive use of their site in exchange for volunteer services.
Individuals and Groups: Volunteer opportunities include assignments based on an individual volunteer's knowledge, skills and interests. These varied assignments involve a number of the services provided by camp hosts, as well as interpretive/educational functions. Groups, such as scouts, civic and garden clubs, etc., often desire specific special projects. Matching groups of volunteers up with State Parks needs has worked very well. A few examples of the type of work that has been completed include trail building, litter cleanup and fence construction.
Specific Volunteer Opportunities: The Old Las Vegas Mormon Fort in Las Vegas has a need for volunteers. If you are interested, please contact the park at 702-486-3511. The Regional Visitor Center at Cathedral Gorge State Park in Panaca needs volunteers. If interested, please call 775-728-4460 or stop by the Visitor Center.
View the volunteer packet and application.
Support State Parks
Requests are frequently received regarding ways that both companies and individual visitors can support state parks. Such involvement is warmly welcomed by Nevada State Parks and contributes greatly to the vibrancy of the park system.
Corporate and Event Sponsorships: Nevada State Parks welcomes corporate and event sponsorships and has had great success in partnerships with organizations such as AAA, Raley's, Sportsman's Warehouse and Cabela's. Key park events are also opportunities for targeted sponsorship in line with a company's goals. For information about sponsorship opportunities, please contact Nevada State Parks Administrator Robert Mergell at (775) 684-2770.
State Parks Gift Shops: Through purchases made at Nevada State Parks gift shops, visitors are supporting the interpretive and educational programs offered throughout the park system. Proceeds from gift shop sales are the sole funding source for this programming, meaning that everyone who makes a gift shop purchase is directly investing in the visitor experience. Nevada State Parks Gift Shops are located in Valley of Fire State Park, Lake Tahoe Nevada State Park/Sand Harbor, the Old Las Vegas Mormon Fort, the Regional Visitor Center in Cathedral Gorge State Park, Berlin-Ichthyosaur State Park, Spring Mountain Ranch State Park and Wild Horse State Recreation Area.
Individual Park Donations: If a donor would like to help address a particular need within a park, staff is able to assist in identifying the needs of specific parks. These donations may be monetary or in-kind. Examples include directional kiosks, trees, large pieces of equipment, rescue equipment, etc. Other opportunities include educational technology options within visitor centers.
Endowment Fund: The State Parks system welcomes legacy donations. For examples of how you can make Nevada State Parks part of your financial legacy, view the sample codicil document and the sample gift language for your will or trust.
For more information about the endowment fund, please contact Nevada State Parks Administrator Robert Mergell at (775) 684-2770.