History of Ward Charcoal Ovens State Historic Park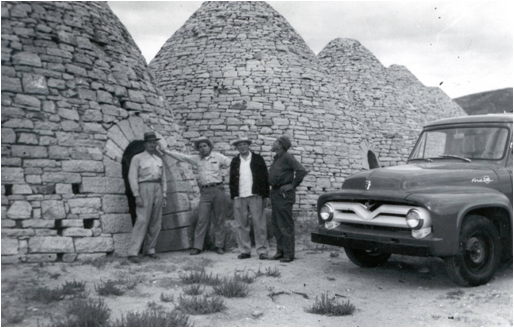 The basin near Ward Charcoal Ovens was a major stopover for settlers who used Cave Valley road to travel from Pioche, Nevada, to the nearby railroad town of Toano (1870-1876). Silver ore was discovered here in 1872 when freighters were looking for oxen that were grazing in the Willow Creek Basin area. The Ward Mining District, located two miles north of the park, was then developed. Small claim mining continued in this area for several years. In April 1875, the Martin & White Company from San Francisco invested money to extract silver ore, bought up several small claims and built smelters (furnaces) for melting ores.
The beehive shaped ovens replaced an older system of producing charcoal because the ovens were a more efficient way to reduce pinyon pine and juniper into charcoal. The Ward Charcoal Ovens operated from 1876 through 1879, the silver boom years of the Ward mines. The ovens were eventually phased out completely due to depleted ore deposits and a shortage of available timber.
The Ward Charcoal Ovens served diverse purposes after their function as charcoal ovens ended. They sheltered stockmen and prospectors during foul weather and had a reputation as a hideout for stagecoach bandits.
The area was privately owned and managed by ranchers until 1956. On June 1, 1956, the C.B. Land and Cattle Company of Ely issued a special use permit to the Nevada State Park Commission for the purpose of protecting the historical Ward Charcoal Ovens. Today, the ovens continue to represent a unique and fascinating chapter in Nevada mining history.
In 1968 two privately owned parcels were transferred to the Nevada Department of Wildlife. Then, in 1969, 160 acres were transferred to the State Park System creating Ward Charcoal Ovens Historic State Monument. The State Park designation was added in 1994, and park facilities continue to be added to the site.