History of Kershaw Ryan State Park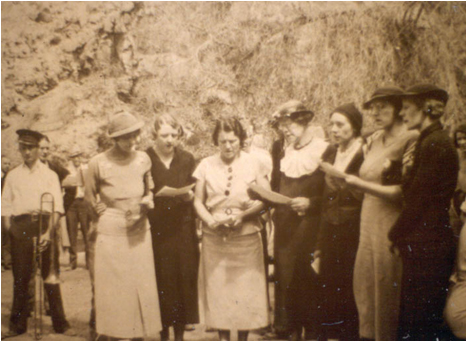 Samuel and Hannah Kershaw first moved to the nearby Meadow Valley Wash in 1873 and soon planted an orchard and garden where the park wading pool and fruit trees now sit. Rich with prolific springs and seeps, covered with wild grapes, Gambel oak and roses, it is easy to see why the park was historically named the "Kershaw Gardens" by local residents.
In 1904 the Kershaw's sold the canyon to brothers James and Patrick Ryan, who also had other ranch holdings scattered along the Meadow Valley Wash. The Ryan's reportedly never lived in the canyon, but resided in their home ranch about a mile south of Caliente. James Ryan became very successful in the cattle business and was very generous in the development of the city of Caliente. Not only was he one of the founders of the first Lincoln County Bank, he also donated the property for the Caliente cemetery.
In the early 1920s, a motivated group of Lincoln County residents convinced the Governor to create a state park system and in the 1930s Nevada acquired property which would later become Cathedral Gorge and Beaver Dam State Park. The Ryan family then donated the Kershaw Gardens in 1934 for use as a public park for the enjoyment of generations to come. That same year, the Civilian Conservation Corps finished construction on new stone picnic tables, fire pits, outhouses, a wading pool and a rock caretaker's cabin.
The dedication in 1935 of "Kershaw Canyon-Ryan" – as it was called then – included a Caliente American Legion Auxiliary's stone monument to commemorate the event. Stones used in its construction were gathered from all over Lincoln County, including a cornerstone from the ghost town of Delmar. Today this monument still stands.
Kershaw-Ryan became a full service park in 1961, with the addition of a campground and modern shower and restroom facilities, and became a popular camping destination for the next 20 years. But in August of 1984 disaster struck. Flash flood waters destroyed much of the park, including the campground and the stone cabin. All that remained was the wading pool, restrooms and an apple tree planted by the Kershaws.
With years of extensive redesign and reconstruction, Kershaw-Ryan was once again open for business in July of 1997. Today this scenically beautiful park is popular for weddings, family reunions, special events and for just relaxing by the pool.