ADVISORY: Asian clam control project to begin at Sand Harbor mid-June. More info…
A team of partners from the Lake Tahoe Aquatic Invasive Species Program is scheduled to begin implementation of an Asian clam control project in mid-June at Lake Tahoe Nevada State Park, Sand Harbor. Funding for this project is coming from the NV Lake Tahoe License Plate Program and Tahoe Bonds from the State of Nevada.
The goal of the clam control project, a collaboration between the Nevada Division of State Lands, Nevada State Parks, and the Tahoe Regional Planning Agency, is to treat a small, isolated population of Asian clams at Sand Harbor before they spread to an unmanageable level. Treatment will be accomplished by covering approximately 4 acres of the lake bottom near the boat ramp with thin rubber barriers. The barriers measure 10 feet by 100 feet and are placed by SCUBA divers over known populations of Asian clams on the bottom of the lake. Steel rebar on top of the barriers keeps them in place and deprives the covered clam population of oxygen. ​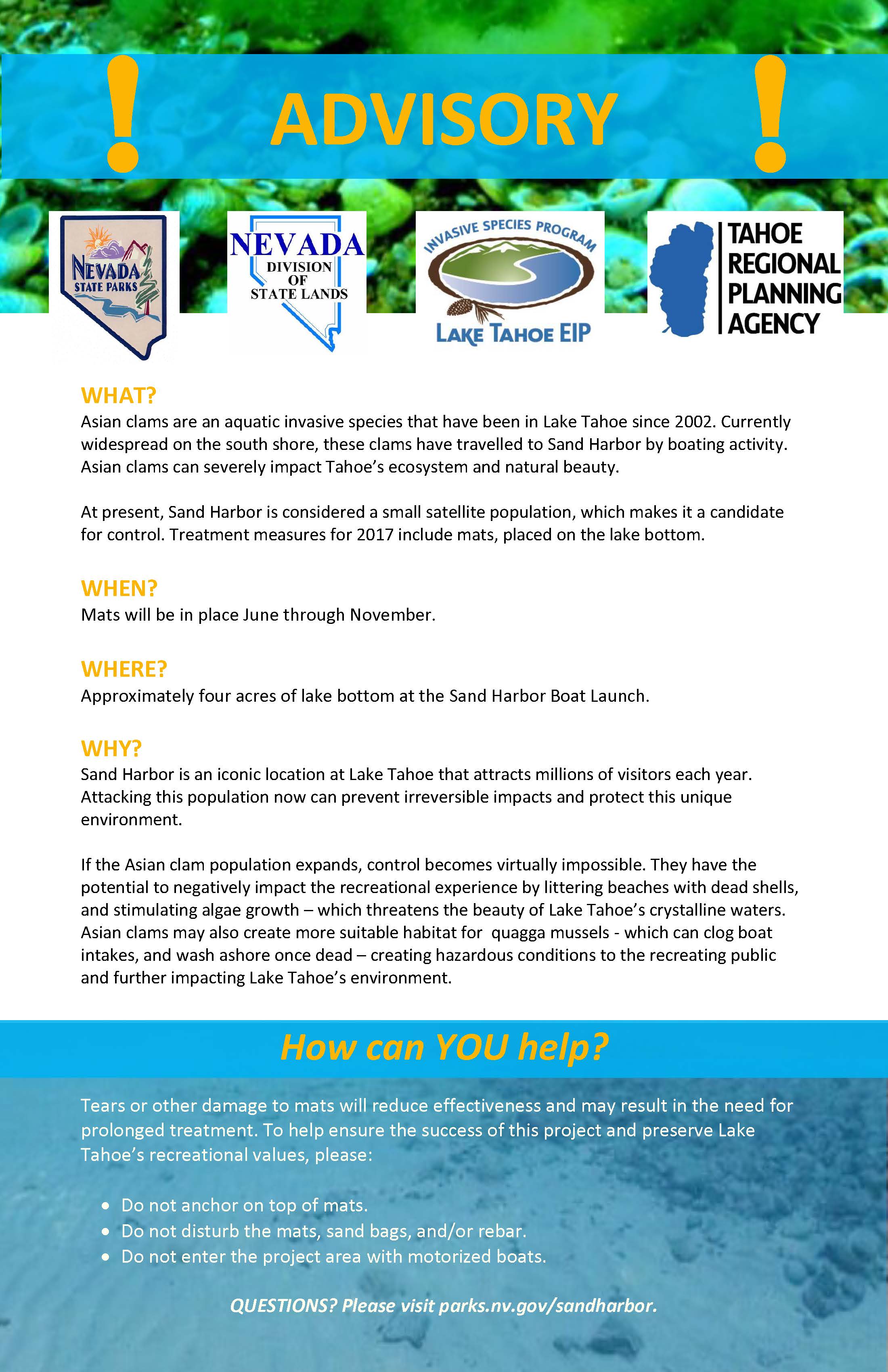 Tears or other damage to the mats will reduce their effectiveness and may result in the need for prolonged treatment. To help ensure the success of this project, please do not anchor on top of mats or disturb the mats, sand bags and/or rebar.
Controlling the Asian clam population in Lake Tahoe is critical as the clams have a variety of negative impacts. Asian clams stimulate algae growth, which reduces the quality and clarity of Tahoe's waters. They may create more suitable habitat for quagga mussels, which can clog boat intakes, and they compete with native species for habitat and food, which causes a disruption in the food web. Once dead, Asian clam shells wash ashore, creating hazardous conditions for boaters and the recreating public.
By treating infestation in the early stage, these impacts can be minimized or avoided. The treatment will also help prevent the spread of these invasive clams to the North Shore of Lake Tahoe.
Quick History of Asian Clam Presence in Lake Tahoe
•Asian clams first discovered in South Lake Tahoe 2002 (Hackley 2008)
•Displayed rapid population expansion using lake currents for dispersal
•Scientist discovered rubber pond liner anchored to the bottom deprived Asian clams of oxygen
•100% mortality of clams under bottom barrier (1 month in summer, 3 months in winter) (Wittmann 2011)
•Very successful method of treatment when pond liner maintains contact with the bottom
A Brief Life History Lesson of Asian Clam in Lake Tahoe
•Live up to 7 years and reach a maximum size of 22mm in Lake Tahoe
•Clams become reproductive after first year at a size of 13mm
•Asian clams exhibit great reproductive potential allowing rapid range expansion
•Dispersal by releasing veligers into water column with veligers drifting on currents for up to 48 hours before settling
•Require temps above 160C to reproduce (can't reproduce if settling deeper than 20m due to thermocline (Goldman 2013)
Natural Expansion of the Asian Clam Population in Lake Tahoe
Observed a rapid population expansion where veligers were carried by currents (Baldwin Beach to S. Glenbrook) over about 3 years.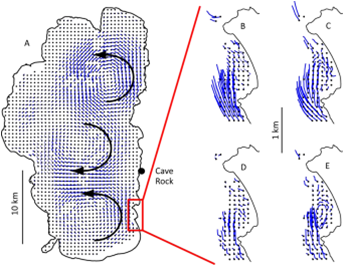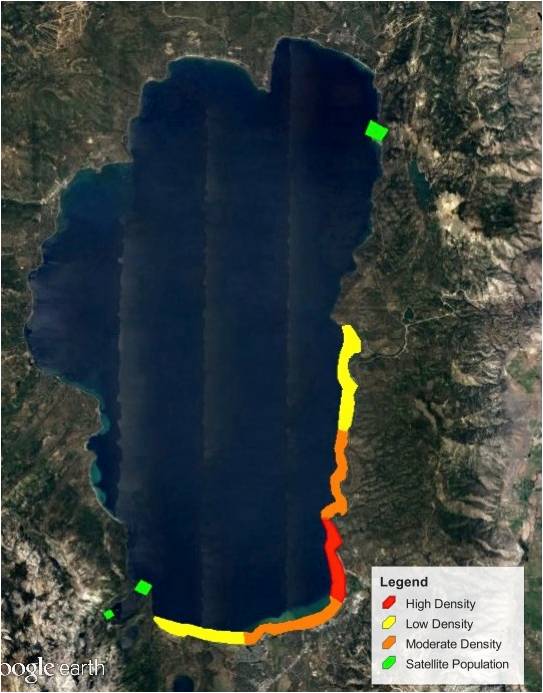 Transport of Asian clam to Satellite Locations
•Based on the rate of natural expansion we would expect to see clam populations all around the lake
•There must be natural impediments to lake wide distribution
•Hypothesize boats - bilge / bladder dumping is providing clam transport to satellite locations
•It took 9 years for clams to arrive on the Emerald Bay sill
•It took 12 years for clams to arrive at Sand Harbor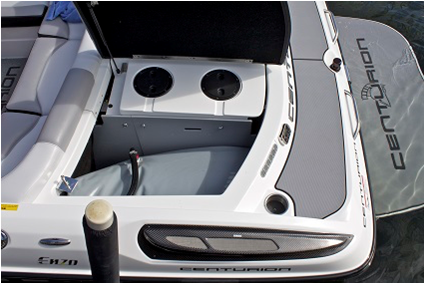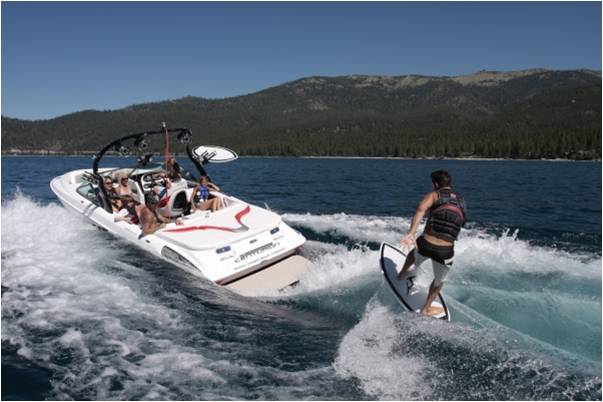 Discovery of Asian Clam Population at Sand Harbor
September 2014
- Found half a clam shell at boat beach in mid-Sept
- Returned with divers on Sept 29th. Found live clam in 15ft of water near boat beach
- Reported findings to NDSL and ACWG (Sept 29, 2014)
Feb-Mar 2015
- Conducted dive/wading surveys of swimmers beach, divers cove and boat beach
- Found one recently dead AC at the boat beach but no other evidence of clams found
- Reported findings to NDSL (Mar 31, 2015)
Oct 2015
- Found group of live clams in ~ 1-2ft of water directly off the boat ramp while working with TERC's nearshore station
- Reported findings and field site visit with NDSL (Oct 20, 2015)
June 2016
- UCD TERC staff completed survey of boat beach area to delineate extent of clam infestation
- Results and recommendations submitted to NDSL (June 15, 2016)
Results from June 2016 Survey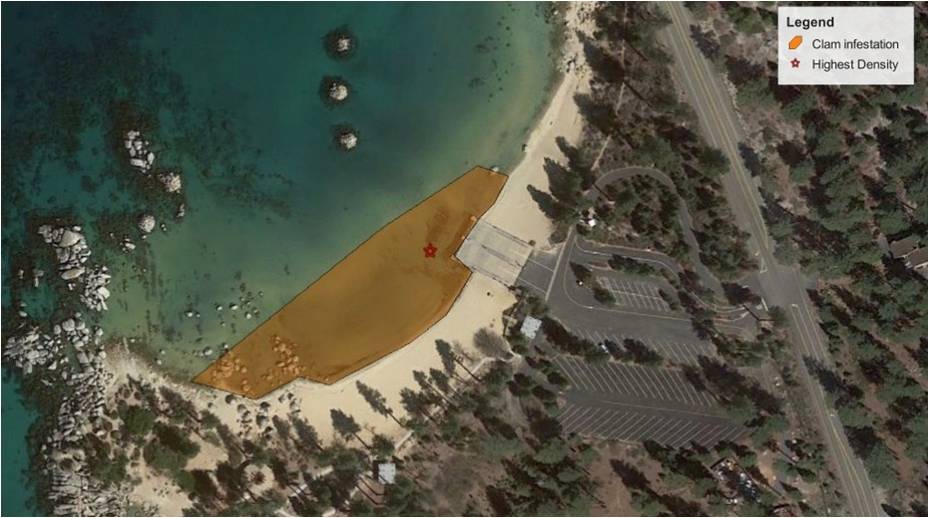 Significance of the Sand Harbor Population
•Sand Harbor is a satellite location
•Isolated from persistent populations in southeast portion of lake
•There is little chance of short term recolonization - it took clams12 years to arrive
•Underlying substrate and current/wave action are similar to highly successful treatments in Marla Bay - unlike Emerald Bay
•2016 temp data showed reproductive potential from July 1 through October 1 (UCD nearshore station at Sand Harbor)
There is an Urgency!
•Sand Harbor is the jumping off point for Asian clam populations all along the north shore
•Summer drifter study shows potential veliger movement north from Sand Harbor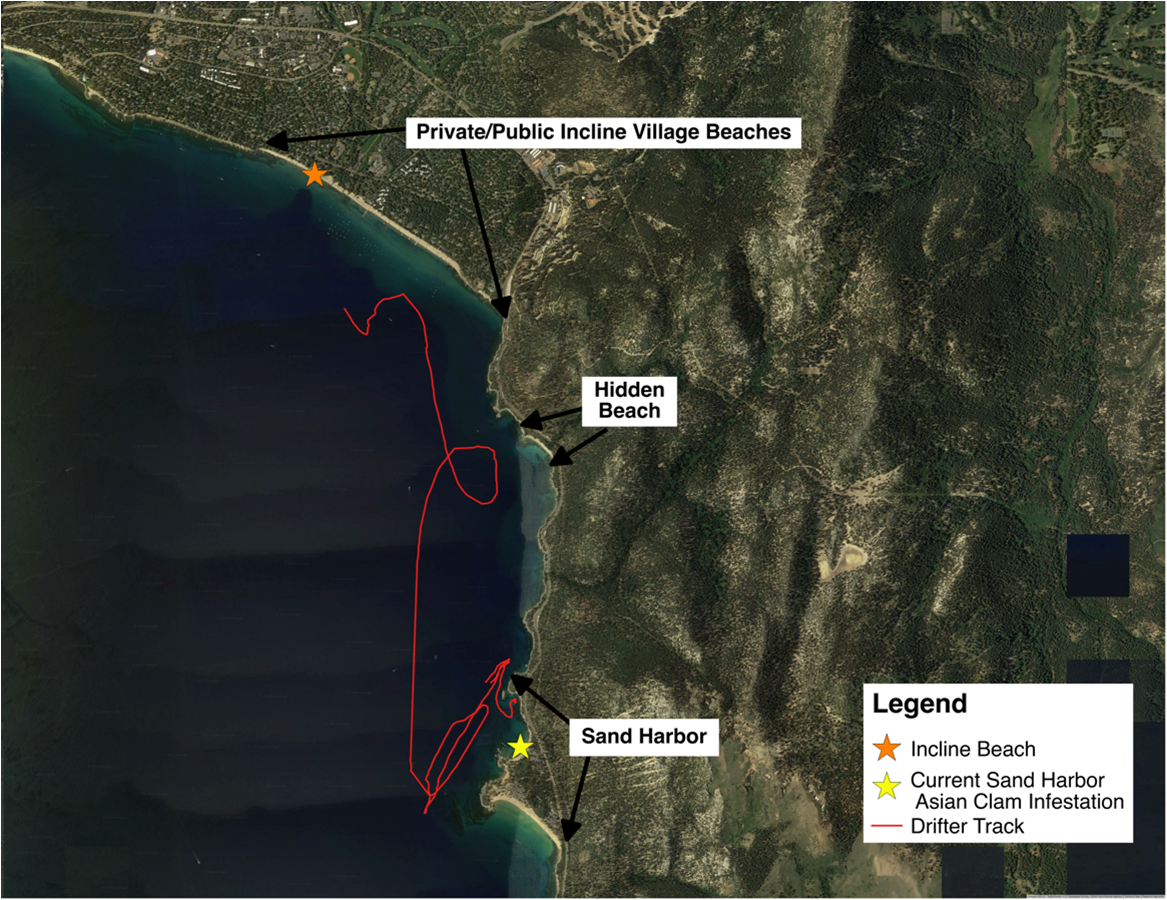 North Shore Beaches at Risk
•The longer Sand Harbor Asian clam population goes untreated the higher the likelihood additional Nevada State beaches and IVGID beaches will become infested